Acne Therapy in Oklahoma City
Expert Care For Your Acne
Acne tends to begin in the teenage years and can follow you straight into adulthood, scarring your skin and damaging your self-confidence. In fact, 3 out of 4 teenagers suffer from acne, while more and more young adults and members of the older generation are experiencing skin problems, as well.
Millions of today's acne patients are searching for a quicker and simpler solution to clearer skin – painless, with no side effects, and at an affordable price. Now with Viora™ laser acne clearance treatments, there is a solution.
Our team at Renew Wellness and Aesthetics is proud to use Viora's™ V-IPL laser Acne Clearance Treatment. Safe and comfortable, Viora's™ proven clinical results leave patients feeling both beautiful and confident. Viora's™ V-IPL  laser acne clearance dramatically reduces Propionibacterium acnes (P. Acne) bacteria and decreases inflammation.
The treatment produces reactive oxygen that effectively and safely destroys P. Acne bacteria while reducing the formation and appearance of blemishes–all without damaging the surrounding tissues.
Schedule a complimentary consultation at Renew to learn more about acne treatment OKC options and whether Viora™ laser treatment is right for you. Acne problems can also be treated at Renew with skin rejuvenation treatments such as DiamondGlow™ facial, chemical peels, microneedling , and medical-grade skincare.
Why Try Acne Therapy in Oklahoma City?
Quality care from professionals. No guesswork.
A wide variety of treatments to help resolve your acne that you would not have access to at home.
High-quality, medical-grade skincare products.
What to Expect
Consultation
Before we suggest acne treatments to patients in Oklahoma City, you'll meet with one of our providers for a skin consultation. We will discuss your skin concerns, goals, and sensitivities to find care solutions for you.
Continual Guidance
Because acne therapy is rarely resolved with a single treatment, Renew Wellness & Aesthetics will be here for you at every step of your acne treatment journey. We'll provide you with the high-quality care you need to find lasting acne solutions no matter your needs.
Frequently Asked Questions
Does Viora™ acne therapy require any topical anesthesia?
Thanks to Viora's Proprietary PCR™ Technology and advanced contact cooling, the treatment is well tolerated, and no topical anesthesia is required.
What does the treatment feel like?
With Viora's™ contact cooling system, that provides cooling before, during, and after each pulse, our light technology treatments provide the most comfortable experience possible. Some patients might feel a slight stinging or heat sensation, depending on the treatment performed.
What areas of the body can be treated?
All body areas and the face can be treated with V-IPL handpiece.
What skin types can be treated?
The PCR™ Technology has a wide range of settings including pulse configurations, which allow the practitioner to adjust treatment parameters, cut-off filter, and energy fluence according to each skin type (including Fitzpatrick skin type VI).
How long does an acne treatment session in Oklahoma City last?
Viora's PCR™ technology includes variable pulse structures, enabling rapid treatments, among the fastest in the industry. Exact treatment time depends upon the specific application, each individual patient's condition, and the specific area that is being targeted. On average, the treatment session may last between 5 to 40 minutes.
How many sessions are needed?
Each V-IPL indication requires a different average treatment course, which may range between a single session to 10 sessions, depending upon the actual application needed, and each patient.
When will I see results?
Results can be seen and felt after the very first treatment with a gradual improvement as the treatment course progresses.
How long after treatment can I wear makeup?
Since the treatment is totally non-invasive, any make-up can be applied immediately post-treatment.
How much downtime is there after an acne treatment?
Since V-IPL treatment is totally non-invasive, you may return to your daily activities immediately post-treatment.
GET THE NATURAL OKLAHOMA LOOK™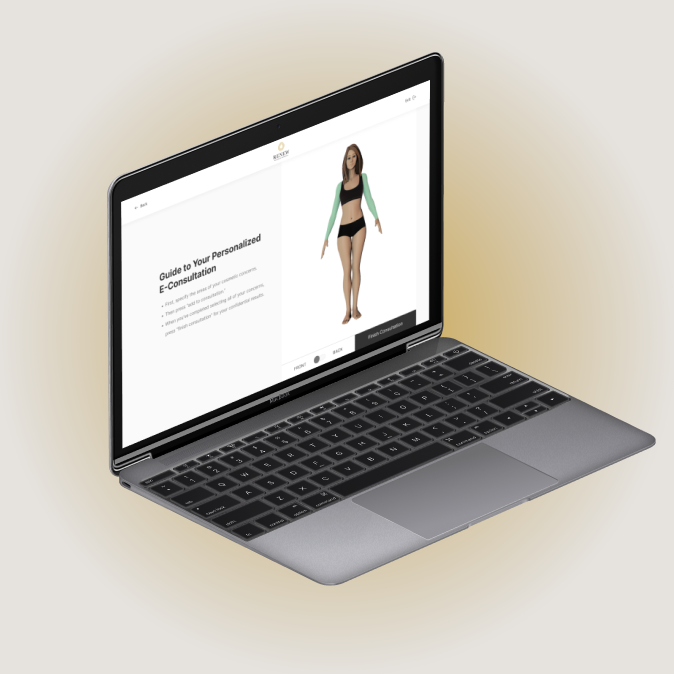 Get Started
Tell us more about what you need using our Virtual Consultation Tool. Simply input your concerns and we'll provide custom treatment recommendations for your unique needs.
Virtual Consultation